Where are the RTX 3060/3070/3080/3090 video cards?
There has been a shortage of all video cards for quite some time now - mainly the higher spec models such as the RTX30XX series, but also the lower end cards. There are countless news and other articles to why this is the case and you can pick your villain; blame a massive demand for high end cards for cryptocurrency mining, the global shortage of silicon chips, a ship going sideways for a while, Brexit, or the video-card-eating-monster - they may have all contributed to some degree.
The shortage of the RTX30XX cards has also lead to people making do with older cards such as the RTX20XX. Even cards such as the 1660/1060/1050 are fetching some surprising prices.
Then there are scalpers who swipe up the bulk of video cards leaving less for consumers, wherein bots monitor stock and buy up as soon as they come available - leaving us mere mortals sitting on websites refreshing the page, hoping that the stock levels will change and to be quicker than a computer at buying them. Some humans will get lucky but is very frustrating for the rest, who then see the cards on eBay shortly after for double the price. 
There is not much me or I can do about factors out of our control, so now we have to put up with much higher prices than RRP - I have seen video cards (I will not name the retailer, but they are a large one that everyone knows) sell a card that should be around the £450 mark sell for £4000. That's right, I didn't make a typo...£4500 for a mediocre video card. 
Sometimes you can get lucky when a new model comes out such as when NVIDIA release the FE (Founders Edition) cards and are at RRP or close to it - I saw this recently with the release of the 3070ti and 3080ti cards. There are some websites that offer a sort of raffle where you might be one of the lucky ones to get an opportunity to buy a video card at a reasonable price. Maybe buy a second-hand card that has been burnt out by cryptomining and then refurbished. It's that or take a punt on eBay and go full-send like a moth on a lighbulb with a last-minute bidding frenzy. Or have a friend that knows a friend that can get a card and there's some sort of dodgy feeling about it. When I type this, I feel like I'm writing for a sci-fi novel where RTX video cards are the currency to stay alive and people will clasp at them through barbed wire just at the chance of touching a box to give them hope. 
It was just before Christmas where I was merrily building gaming systems with RTX cards without a thought to the stock problem, buying and selling RTX30XX cards at reasonable price. Then *whack* it all changed and has not been the same since. This may come as a surprise to you but trade prices are often double or more of what the RRP should be so it simply is not possible to sell them at RRP - if I could, I would. 
Things are slowly improving at the moment with how much stock is available. AJ Computing have a very good distributor (in particular of Inno3D and Gigabyte cards) and over the last month or so we have had a trickle of cards available to us. At the point of writing I have a Gigabye RTX3060 Eagle OC 12GB next to me waiting dispatch, an Inno3D RTX3070ti ear-marked for someone and this week I have an opportunity to order more cards. Previously I have only been able to order of each type of card at a time (and even that usually involvs sitting on the distrubtors page pressing the F5 key, hoping you get there before your competitors) but more recently I have had the opportunity to buy in relative bulk.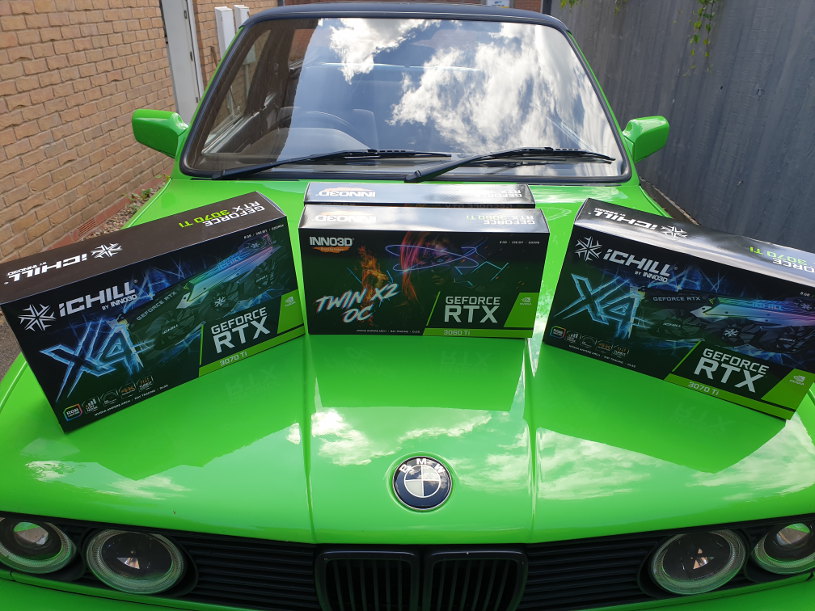 I point blank refuse to get into the game of making a quick buck out of these cards which I have supply of. As I see it, AJ Computing could easily take advantage of the supply versus demand and make the massive margins that some are but what impression does that leave in the eye of the client? I would not say particularly favourable when a company has cashed in on the desperation of needing something badly that you will pay over the odds for it. Would they come back for future orders when they need something else? I doubt it. Would they recommend us to a friend? Hmm. 
What AJ Computing can offer however is NVIDIA RTX cards at a reasonable price. I won't say a good price because that would suggest we can supply them at or near RRP. There's no chance can we do that, because they are simply too expensive for us to buy. I check prices every week and we are consistently cheaper than almost everywhere that has stock in the UK. You can collect from us (near Stamford/Grantham/Bourne, Lincolnshire) or we can happily post by courier. That's about as far as I will push the sales pitch on this article so please feel free to contact us if you are looking to purchase a card - if we don't hold stock of the exact card you need, get on our waiting list and you will probably have it in a few weeks. 
At the time of writing, we have stock of Inno3D RTX 3070ti ICHILL X4 cards for £785.00 including VAT and can get other cards on request.