A wireless installation in a lodge park
How we installed customer WiFi at a large holiday home site.
Our client is Stretton Lakes who have six luxury lodges in their park near Oakham which looks like a fantastically relaxing place to stay. Stretton Lakes contacted us with their need to add wireless internet to the lodges and perhaps the outside areas. The reason being that nowadays people expect to be able to get online wherever they are – perhaps more so with the business clients that attend the lodges but of course the individuals who want to stay in touch with home and so on; they certainly do not want clients going somewhere else simply because of the lack internet access.
We had a few restraints. Number one they did not have an internet connection at or near the lodges. A satellite connection was considered but due to the latency issues expected, browsing would be quite painful - and that's not to mention the considerable cost-  so it had to be a broadband line. Eighteen months later and finally BT had put in a broadband line. At the time of writing it was still quite flaky which needs investigating with BT - no surprise there.
Another restraint is that it's clear that we were not going to get a fast internet connection. Currently they get 10MB down at the house nearby, but at the moment only getting 5MB on the new line near the lodges. So clearly there needs to be an option of restricting each user or each lodge to the amount of bandwidth available to them to be fair to all residents.
There were more considerations that had to be taken into account when deciding on which hardware to recommend. In an ideal world, I'd run a cable to each lodge from the main internet connection and a wireless access point inside each lodge - job done. In reality, there is a lake between the broadband connection and four of the lodges, and there was no good route to run cables to the lodges closest to the BT connection. Add hedges, different heights of lodges and aesthetically pleasant nature of the park and you begin to get a picture of the average issues that we face as installers of hardware - it's not all just about sitting in front of a computer screen bashing out code.
The supplier of hardware was a no-brainer. Having used Solwise before and with a wide range of equipment knowing their support is second-to-none I wouldn't go anywhere else. AJ Computing supply all of the Solwise product range at retail prices. You can view the entire range on their website. Cables not possible, the best wireless solution had to be decided.
Picture it if you can, there are two lodges on one side of a lake and four lodges the other side of the lake. It would have been possible to transmit a signal directly from the main equipment shelter (aka the "Shed") and the furthest lodges directly if it wasn't for the slight issue of some rather large hedges being in the way of one lodge. Better in this scenario a mid-point to act as a backbone back to the "Shed" and as luck would have it, there was a handy point just over the other side of the lake aka the "Power Socket". So that decided the wireless backbone and the hardware was decided on - a pair of Engenius ENH220EXT 2.4Ghz long range, high capacity outdoor access points. These were setup in WDS access point mode with a bridge between the two.
This would mean that not only would the "Power Socket" access point bridge on to the main AP but also meant that those within range of either access point in the park can also get access to the internet. The restriction for those outside the lodges wanting a connection to the internet is not the powerful access points - they can go for miles - it's more the range of the devices attempting to connect. The main "Shed" access point would also serve the lodges closest to the "Shed"
The "Shed"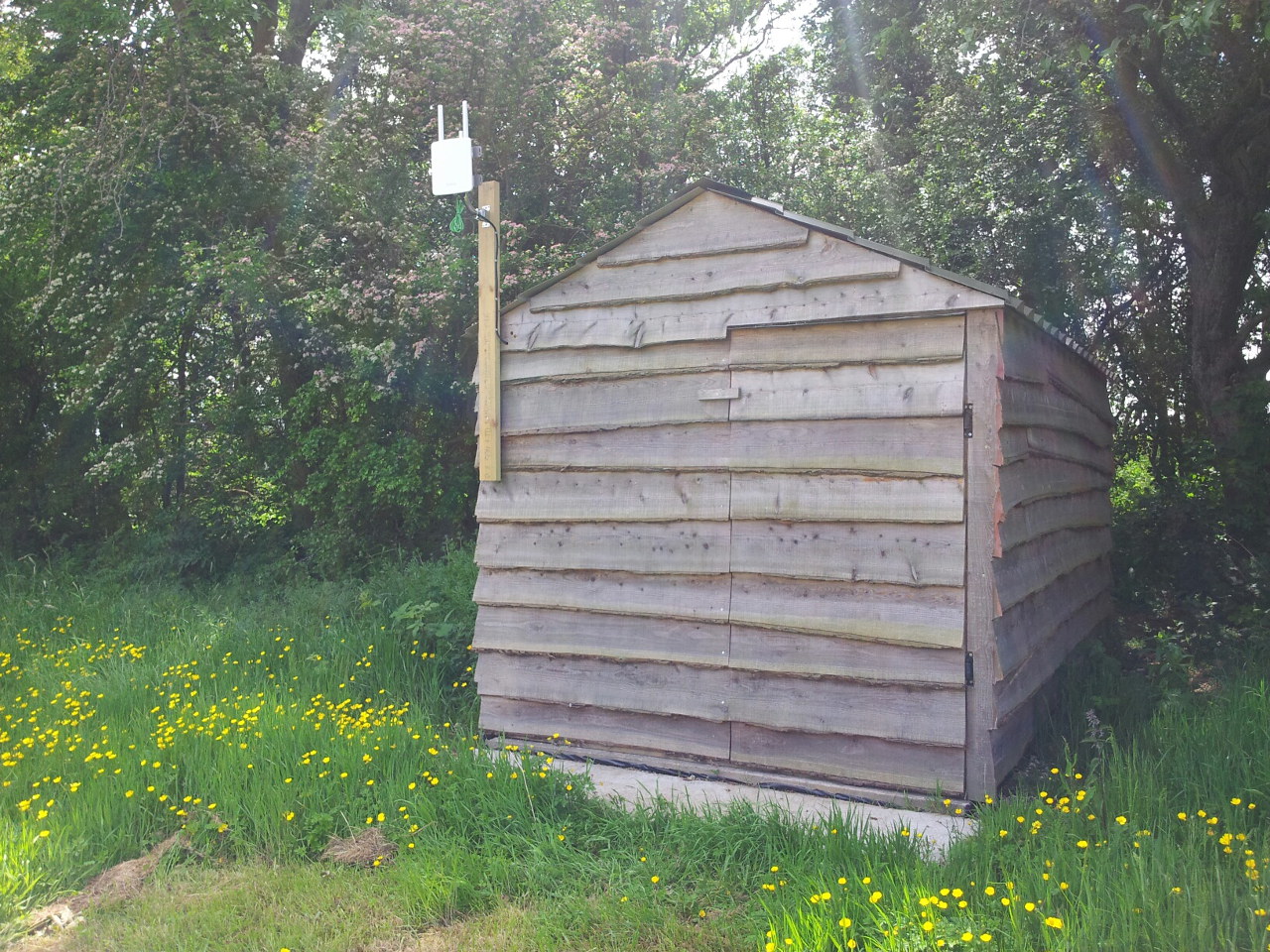 The "Power Socket" (you can see the "Shed" in the distance the other side of the river)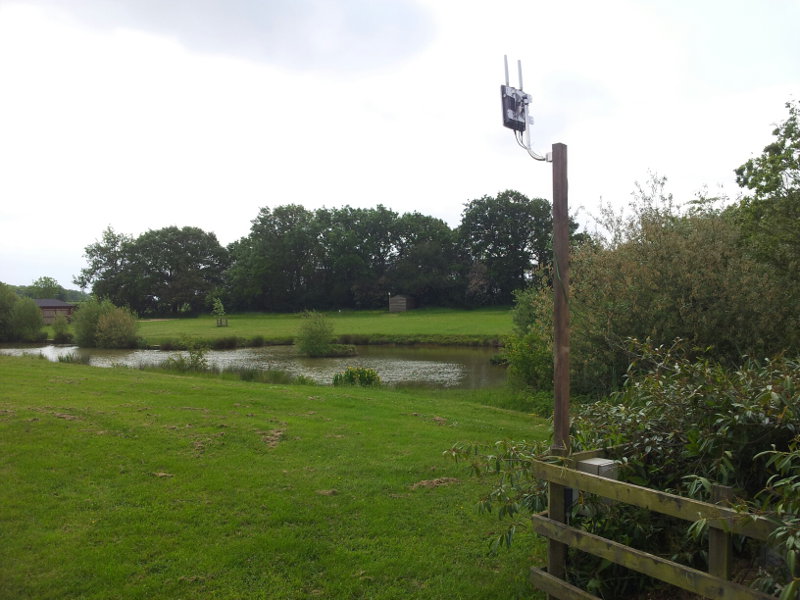 Right, so that's the wireless backbone sorted. Next up is getting wireless to each lodge. At a stretch (a big stretch) you could hope that clients devices would communicate from within the lodges directly do the main access points. I gave this a go - my HP laptop was quite happy in most parts of the lodge if I was in sight of a window - but my Samsung Phone - forget it - and I would assume this would be the case for many devices. There isn't much point advertising that the park has wireless as a feature if you are going to get numerous calls to the office saying they can't connect or it randomly drops out. Sense says in this case it is better to have a strong link from outside of each lodge back to the nearest main access point. EnGenius ENH202 External 2.4Ghz access points were chosen and setup in client bridge mode to the corresponding main AP. To get wireless inside the cabin, an external grade CAT5E cable was ran to a basic wireless AP - EnGenuis EST1221n.
EnGenius ENH202 External 2.4Ghz access point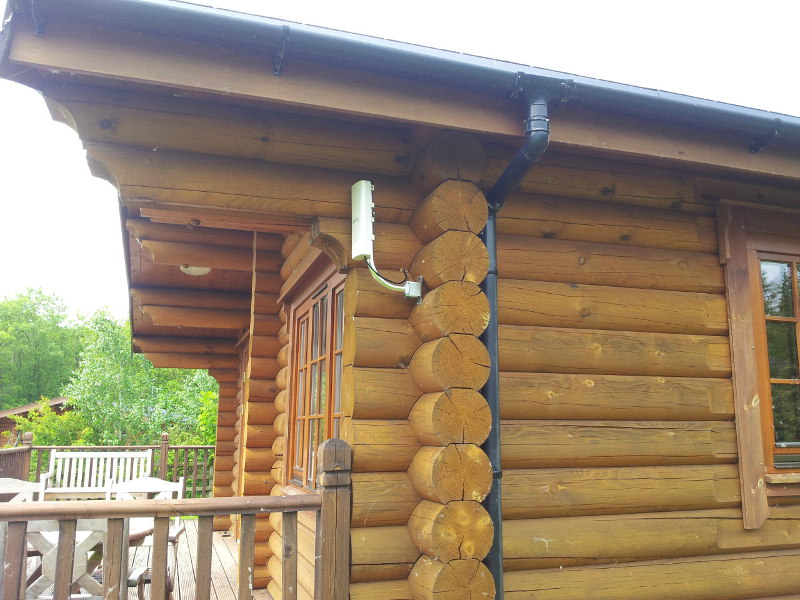 So this gave a scenario where people outside of the lodges could get access while they are fishing and generally enjoying the outdoors via the main access points and people inside on a rainy day can get access via the internal access points. Sorted.
But of course it's not as simple as that. You can't just have anyone logging onto the wireless and using it - an open network gives no accountability for miss-use .A wireless code to log in perhaps? Again, if you give it out to everyone it's difficult to restrict anything or prove who it was if OFCOM get on your case. What was really needed was a way of restricting bandwidth, keeping an eye on who's connected and having everything logged. The device just for the job was the Guest Internet Solution WAS-R2. This provides a login page with access codes as an intermediary between the Internet connection and the wireless devices attached to it. It provides simple administration and everything required in this scenario.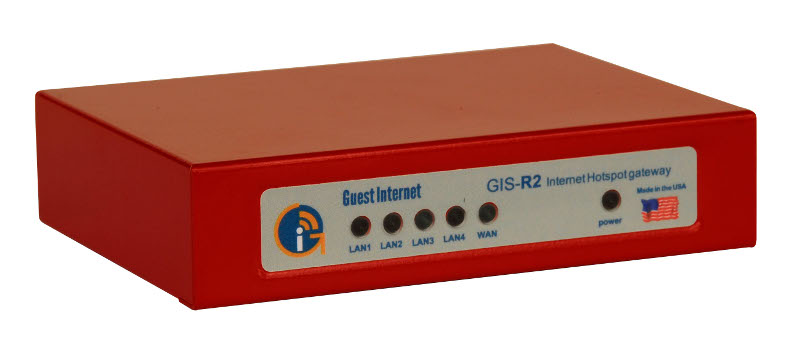 Before heading out it's the routine to check all equipment works, update firmware and set it all up - it's not much good doing your testing with devices attached to the side of buildings and then realising you have made a big error of judgement.
Day of the install and in typically English fashion it was chucking it down and likely to be doing so until the afternoon. No point in milling about so had to crack on (again - not all IT guys just sit behind a desk!).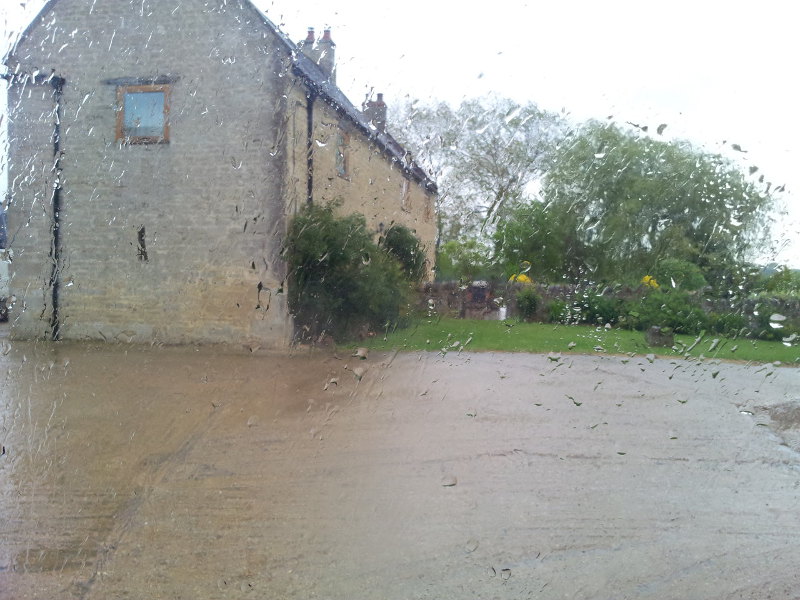 Everything installed and went swimmingly. The equipment performed brilliantly with no noticeable lag or difference in upload/download speed or latency issues. It had to be said that the client was remarkably helpful and resourceful - even making a home brewed water-resistant box for the "power socket". Now that they have Internet access the lodges look even more tempting for a nice break.
The Range Rover, proving it's practicality as the choice for IT providers with its split tailgate and high work surface.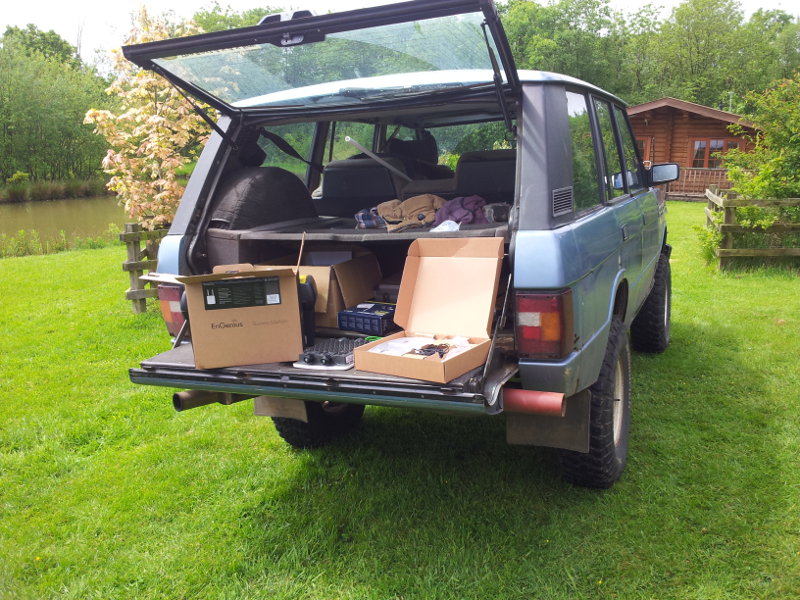 We are confident that we can provide and support a wireless system for holiday parks, camping and caravan sites and anywhere else that requires a well thought out wireless system. If you would like a wireless installation at your site or perhaps just to chat through options feel free to contact us.
What a lovely place to stay - now with Wi-Fi Internet Access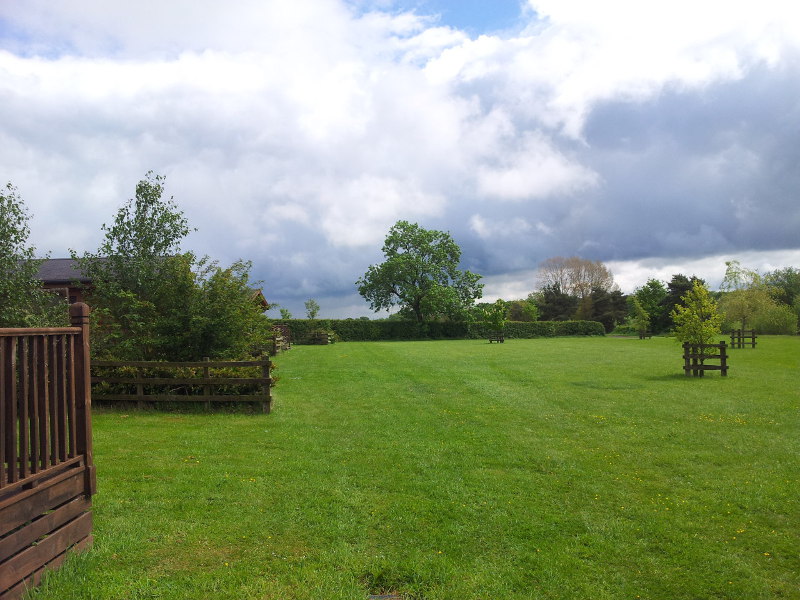 -- Alex Collard
Components used
Wireless Backbone:Engenius ENH220EXT 2.4Ghz long range, high capacity outdoor access points
External Access Points: EnGenius ENH202 External 2.4Ghz
Internal Access Points: EnGenuis EST1221n
Internet Gateway (for codes, restricting access and so on): Guest Internet Solutions WAS-R2
Cabling: External Grade CAT5E Cable and standard CAT5E Cable
Other: 20" J-Pole mounts, various clips and so on
Tools required: Ladders, screwdrivers, hammer, Range Rover, drill and bits, a practical farmer as a helping hand